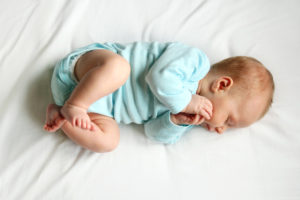 Every year, around 3500 infants die from sleep-related deaths. The AAP, American Academy of Pediatrics, has guidelines that have been researched and proven to reduce the risk of infant death. Please reference the following article for the full list of guidelines. AAP Announces New Safe Sleep Recommendations to Protect Against SIDS, Sleep-Related Infant Deaths
Of note, the AAP is now recommending that infants share their parents' room for at least six months. The important thing to remember is that they need to be in their own safe sleep space during this time.
Infants should sleep flat on their backs on a firm mattress with no soft bedding or loose blankets. Sleeping on their backs does not increase the risk of aspiration for an infant. An infant should not be over-bundled, as studies have shown that overheating increases the risk of Sudden Infant Death Syndrome (SIDS). Infants are typically comfortable wearing one more layer than an adult. Devices designed for infants to sit in, such as carseats, swings, bouncy seats, strollers, etc. are not recommended for routine sleep.
Breastfeeding, pacifier use and a smoke-free environment have been found to be protective against SIDS.
The AAP also mentioned the importance of receiving routine vaccinations and participating in supervised tummy time in the updated policy statement which can be found here.